Under the Covers
Songs of love, lust, and longing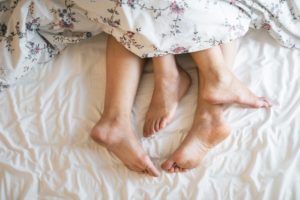 Click on an image to enlarge
About the Music
The sub-title for Under the Covers is 'Songs of love, lust and longing". I pretty much understand the lust and longing part, but what Love is, is not so clear. Must be a bazillion definitions, as many stars as in the milky way I suppose, to define Love. And almost as many songs! So I won't try to define Love, but like some other things, perhaps we know it when we see it. Or feel it. Or hear about it in a love song.
Speaking of which, years ago I was at a songwriter's roundtable, which is where you play your song and other budding songwriters give their opinion of it, and during the general discussion the moderator said that somebody said that…wait for it…ALL SONGS ARE LOVE SONGS. I was thinking no way, but after a few years I thought back on it now and zen and I thought, well maybe that's true.
We all are in a state of perpetual "loveness". We are either looking for love, falling in love, crazy in love, not-so-crazy in love, falling out of love, through with love, or …. looking for love. Or we might be wondering what love has to do with it. Or maybe thinking of a love supreme, universal love. One big circle, around and around. So I think in that sense all songs are about love. Some songs it might be a stretch to find the love connection, but with a small effort you can find it.
This album has been a labor of….yes, love….for a couple of years. It always took a back seat to other projects, other commitments. The Night Flight ARRIVAL! album for example, which I "love" and hope you will listen to, comes to mind. So I had a lot of good material only half finished until the Covid catastrophe opened up a window to finish things, and to do a few new ones reflecting thoughts on the situation more or less — Graham Nash's Wasted on the Way is one.
If you are of a certain age you will recognize many of these songs. I am of a certain age and remember all these, many going back to my teenage years. It was hard to pick which ones to do, this album could have 20 or 30 songs on it but at some point it was time to call it an album and move on to other things. Perhaps after it goes plat ee num I will make a volume 2. Ha. Either way, I hope you enjoy listening to these as much as I did making them.
Musicians
The final "covid sessions" for Under the Covers may have suffered somewhat because I couldn't invite the fabulous musicians I had worked with on many of these songs, but on the other hand I had to step up and multi instrument task, step up vocally, and so forth. I feel like I made up for some of that 'longing' for the Broken Record Studios crew as best I could and am happy with the results. Fortunately we had a lot of the songs pretty well along before the quarantine. Their contributions were outstanding and I couldn't have done the album without them. Plus I got to sing and hang out with some great ladies (there was a method to my madness)!
Musicians
Gene Ford – Session charts and lead and rhythm guitar on Norwegian Wood, Rainbow, The Water is Wide, Watching and Waiting,
Bob Blair – saxophone on Stormy
Kevin Scott – Guitar on Stormy
Cindy West – Vocals on A Whiter Shade of Pale
Ellie Carr – Vocals on Desperado, The Water is Wide, Over the Rainbow
Katie Graybeal – Vocals on As Tears Go By
David Dusylovitch – Violin on Norwegian Wood, Rainbow, The Water is Wide, Somewhere in my Broken Heart, BeeGees medley
Song List Titles
If you don't see a download control, right-click on the audio controls and select Save Audio As…
As Tears Go By (Jagger/Richards)

Norwegian Wood (Lennon/McCartney)

BeeGees Medley

A Whiter Shade of Pale (Procol Harem)

Desperado (Eagles)

The Water Is Wide (traditional folk song)

Somewhere In My Broken Heart (Billy Dean)

Watching and Waiting (Moody Blues)

By The Time I Get to Phoenix (Glen Campbell)

Simple Man (Graham Nash)

Our House (Crosby Stills Nash & Young)

Wasted on The Way (Crosby Stills & Nash)
Musicians
Albums
×