Studio Happenings Now!
BRS welcomed Cindy West (Union West) to the studio to sing "A Whiter Shade of Pale" as a duet. This is part of the "songs you know and love from the 60's and 70's" album that is just getting underway. Awesome rendition, have a listen! Hope to have her back in the studio soon. Thanks so much Cindy.

A Whiter Shade of Pale
Gene Ford (guitar) and David Dusylovitch (violin) joined Brian in the studio in May to work on a new project in the country/blue grass vein. First song out of the sessions is a jammin' rendition of the iconic Glen Campbell tune Gentle on My Mind. Next up some barn burnin' fiddle tunes plus Beatles, Led Zeppelin (yes, Led Zeppelin) and more. Stay tuned for updates!
Gentle On My Mind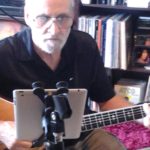 Dennis Pashoukas visited BRS to record several songs resulting from a lyrics/music collaboration with Night Flight's very own Bob Blair. Bob penned the lyrics as poems and Dennis put them to music.
Alone In Paris