Passage
Rock/Fusion Instrumental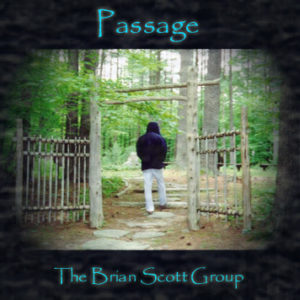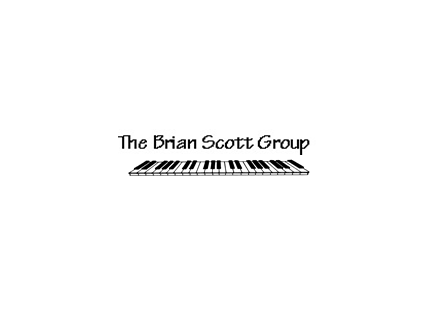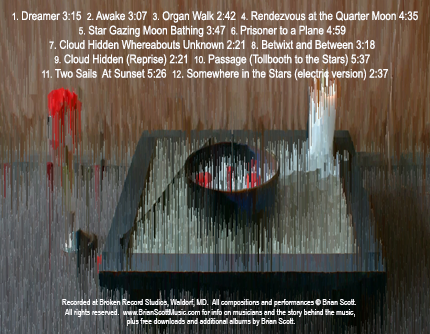 Click on an image to enlarge
About the Music
And now for something completely different. As much as I love the singer/songwriter music of Across the Miles and American Blue Sky, I have an equal penchant for electric instrumental music that is a cross between rock and jazz. It's difficult to categorize but I think 'fusion' works. By no means do I have jazz chops (jazz musicians are the brain surgeons of music) but I love the music and it is very influential. I also was heavily influenced by the music of Chicago, for example. So it was not a stretch of my imagination to do this type of material, but a stretch for my musicianship as these are more complex compositions and arrangements. Again the riffs and melodies for Passage (and Night Flight and Other Journeys) were running around my brain, born from jamming and 'messing around' on the keyboard. It took hundreds of hours of late night session time to bring them to fruition.
Passage is a concept album. Growing up in the seventies, concept albums were part of musical landscape. Think Moody Blues, Emerson Lake and Palmer, Yes, Spirit, Mahavishnu Orchestra, et al. Instrumentals free you from the tether of lyrics, and you can name them anything you want. In this case I was contemplating the larger journey of life, and our ascent (?) into the after life. Or maybe I was just contemplating my navel, who knows. The concept took shape after a trip to Mount Tripper New York to the Zen Monastery there. I had been studying Zen so it seemed logical to check it out. My daughter and I took an initiation class and for several days we ate slept and meditated with the monks there. It was enlightening but no we did not discard all our worldly possessions and stay for the long haul.
To flesh out this material I would need the best musicians I could find, and fortunately I found some awesome musicians in my home town, but also reached out to some of Washington DC and Baltimore's finest. You will hear some fantastic playing on this album. On guitar, Art Burke, fast, clean and imaginative. Scott Smith (Naked Blue) stepped from behind the mixing board to soar on Passage. On bass, Steve Wolf (Danny Gatton, Tom Principato and Swingspeak), indie singer songwriter and session musician Eric Scott, and original Brian Scott Group member Mark Dejon lay down some incredible bass. The biggest fish in the Passage pond is saxophone player Ron Holloway (Root Boy Slim, Gil Scott Heron, Little Feat, Govt Mule, Tedeschi Trucks, Allman Bros) one of Washington DC's finest. Ron plays on both Passage and Night Flight and Other Journeys. On drums my son Kevin plays with controlled abandon with chops way beyond his teenage years. All these incredible musicians were a joy to work with and I am both humbled and blessed in their presence.
When I listen to Passage today I realize I was in a zone; each song was like baking a cake, layer after layer, but without a recipe. The tunes and concept came easy, the execution was challenging but joyful and satisfying.
Passage is dedicated to my 3 favorite keyboard players: Jimmy Smith, Brian Auger, and my mentor when I first started playing, Rick Chrismer, without whom I would still be playing chopsticks. May he rest.
Those who gone before Give us the inspiration to Carry On –
Rick Chrismer (1953-2003) – My teacher Jimmy Smith (1925-2005) – Everybody's teacher
Brian plays Yamaha XP-80 piano and Kawai K-4 synthesizer on the album. Kevin Scott plays MAPEX drums. Special guests are noted next to the song titles. Turn it up or use headphones and enjoy!
Recorded at Broken Record Studios, Waldorf, Maryland, 1999-2003. Mixed and mastered by Scott Smith, Wood and Stone Room, Baltimore, Maryland except for Prisoner to a Plane, Zendo Dancing, Star Gazing Moon Bathing mixed by Kevin Scott.
Cover photo: Jennifer Scott Zen Mountain Monastery Mt Tremper NY
Back photo: Brian Scott
Song List Titles
If you don't see a download control, right-click on the audio controls and select Save Audio As…



Dreamer

(Eric Scott bass, Brian Scott keyboards)

Awake

(Brian Scott keyboards)

Organ Walk

(Art Burke guitar, Kevin Scott drums, Brian Scott keyboards)

Rendezvous At the Quarter Moon

(Art Burke guitar, Kevin Scott drums, Mark Dijon bass, Brian Scott keyboards)

Star Gazing Moon Bathing

(Brian Scott keyboards)

Prisoner To A Plane

(Kevin Scott drums, Brian Scott keyboards,
guitar)

Cloud Hidden, Whereabouts Unknown

(Eric Scott bass,
Brian Scott keyboards)

Betwixt And Between

(Brian Scott keyboards, Kevin Scott drums, Steve Wolf bass)

Cloud Hidden (Reprise)

(Eric Scott bass, Brian Scott keyboards)

Passage

(Steve Wolf bass, Kevin Scott drums, Brian Scott keyboards, Scott Smith guitar)

Two Sails At Sunset

(Ron Holloway saxophone, Brian Scott keyboards)

Somewhere In the Stars – Electric Version

(Brian Scott keyboards)
All compositions and performances © Brian Scott All rights reserved
Albums
×