Night Flight and Other Journeys
Smooth Jazz
Take flight into a magical amalgam of light jazz, rock, and new age stylings in keyboardist's initial electric offering including:
Night Flight to Rio, Zendo Dancing, Eastern Point Light, Malibu, more.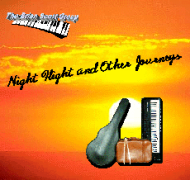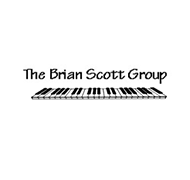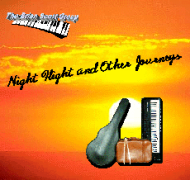 About the Music
Night Flight and other Journeys is Passage lite. That is to say, the songs are instrumentals but are more accessible, the tunes more catchy. Many of the songs were recorded at the same time as Passage and feature some of the same exemplary musicians. I took some of the solo piano pieces (e.g., Eastern Point Light) and electrified them, so to speak, and some new material.
Night Flight to Rio features a cooking Ron Holloway solo at the end, and is one of my favorites. I had the pleasure of having that song debut with an arrangement and performance by the Southern Maryland Community College Latin Ensemble under the direction of Stephen Johnson. Zendo Dancing is a playful concept emanating from the visit to the Zen Monastery (zendo being the very serious meditation room) where in my mind the monks break into spontaneous dancing after the watchful Sensei is temporarily away. I should crowd fund a video! Love the melody and execution of Song for Susan, especially the coda with the sympathetic flute and vibe solo at the end (played on the keyboard). I honestly don't know who Susan is, I needed a two syllable sound to remember the melody (think Paul McCartney's "scrambled eggs" working words for "Yesterday") and that worked as good as any. Had some explaining to do with my wife, Karen. Two syllables there too. Susan is my 'every woman' an amalgam of those who came before, those I know now, and those yet to come. Works for me! More
On this album I play piano and synthesizer. Kevin Scott plays drums except Malibu and Star Gazing digital drums. Ron Holloway plays saxophone. Other guests as noted. Mixed and mastered by Scott Smith, Wood and Stone studios, Baltimore, Maryland.
Song List Titles
If you don't see a download control, right-click on the audio controls and select Save Audio As…
Night Flight to Rio

Song for Susan

Zendo Dancing

Eastern Point Light

Star Gazing Moon Bathing

Malibu
All compositions and performances © Brian Scott All rights reserved
Musicians
Keyboards: Brian Scott
Drums: Kevin Scott
Guitar: Art Burke
Bass: Marc Dijon
Saxophone: Ron Holloway
Albums