Conversations with the Creator
Solo Piano
Gifted Pianist / Composer's solo debut effort features hauntingly beautiful original compositions evoking a sense of spirituality and inner peace. Somewhere in the Stars, Prelude: Rain, Karen with the Golden Hair, more.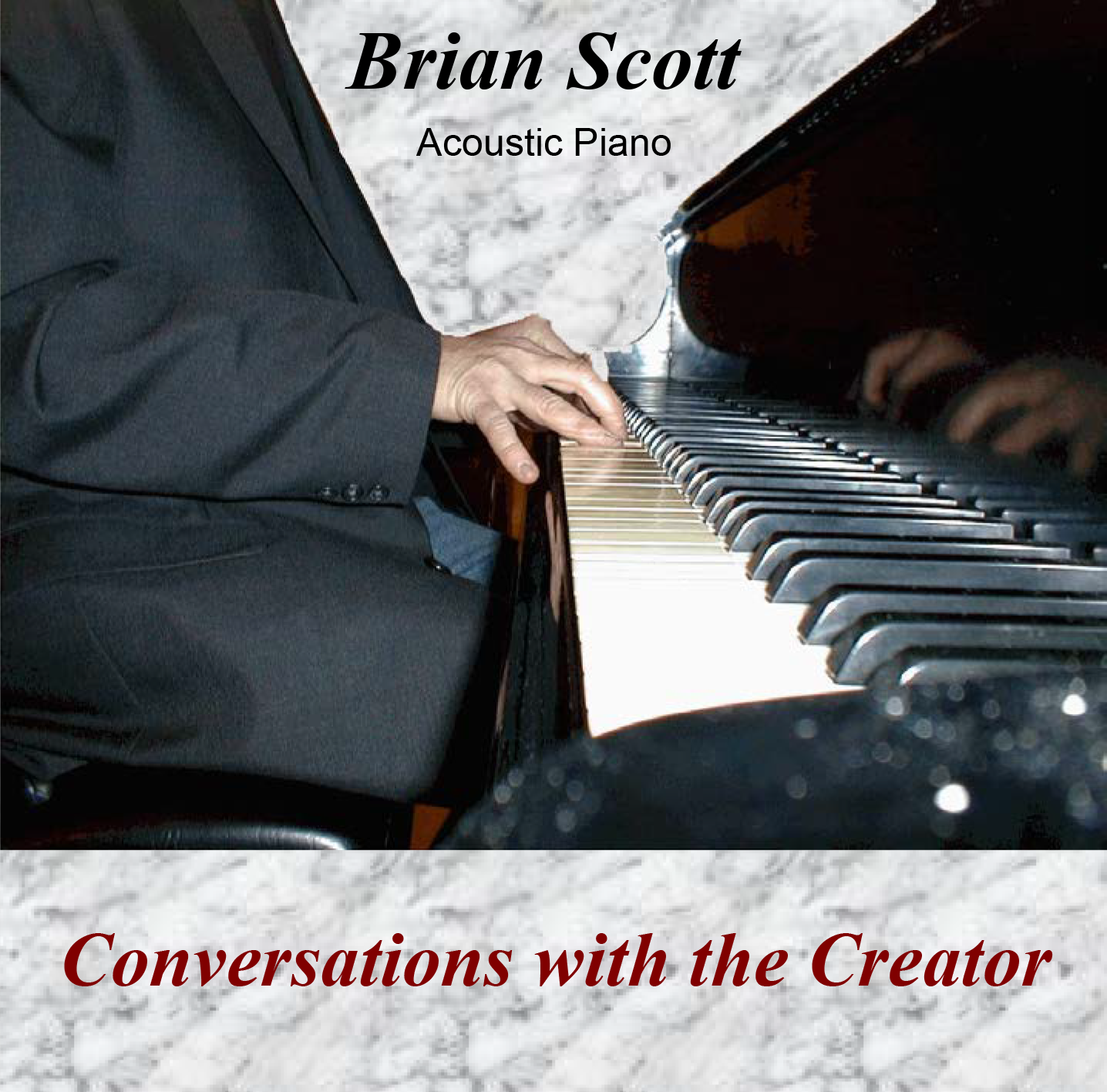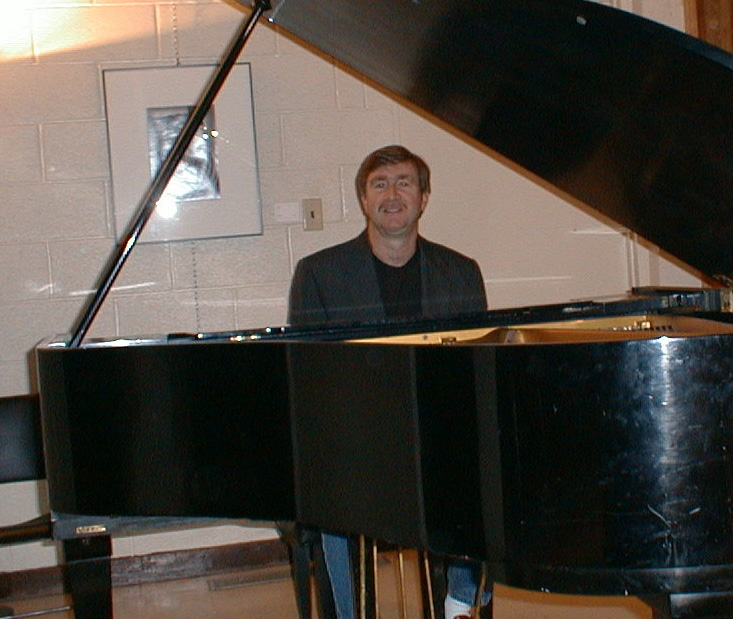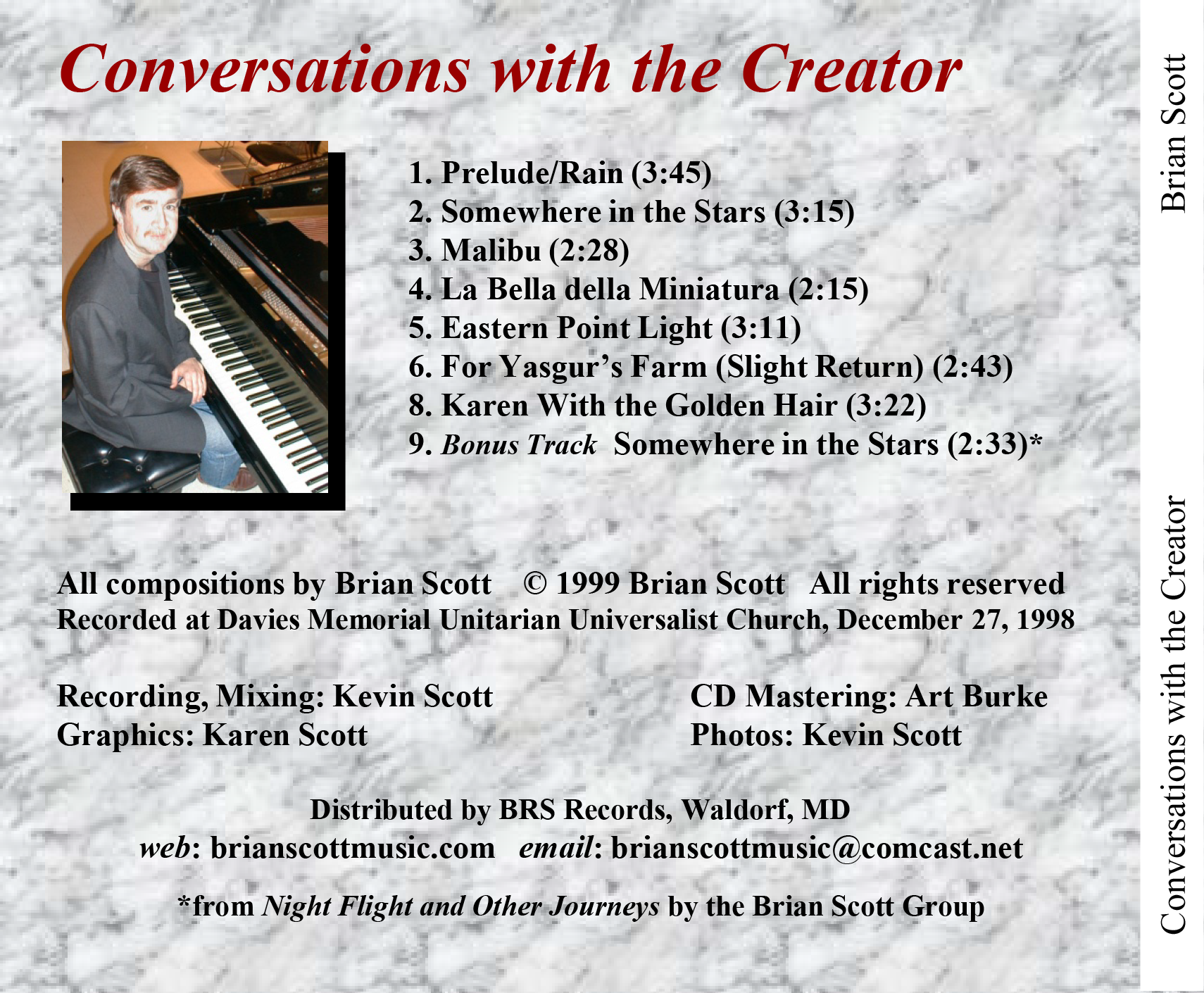 Click on an image to enlarge
About the Music
There always was a piano in the house when I was growing up. My father played, standards mostly, from the 1930's and 40's. I guess I showed some interest because when I was 10 years old or so, I recall a man with a pipe and a metronome sitting next to me at the piano. Three blind mice. Three blind mice. That's when I found out I didn't like much to practice. I still don't. So the lessons didn't last long. That was the extent of my formal training. But it was helpful in that I learned that I liked to play. So over the ensuing years I would play, just improvise. In doing so I found that things just came to me. Melodies, chords. The illusive next note.
Sometimes the music came to me all wrapped up in a pretty bow. Other times, a little rough around the edges, in need of some cleaning up. Some direction. But it always came. I did not strive to create or craft much of anything. I was merely the vessel. Hence this collection of songs I could only think to call "Conversations with the Creator" because I can't explain it any other way. A higher musical force.
All these songs are my musical children, snapshots caught in a moment of time. I never play them the same way twice. Or, as the jazz guys say, I never play them the same way once! I hear the little imperfections in the renderings, my playing of what I hear inside is limited by my 'chops' which are average at best. But more importantly, I hear beautiful music. My gift. My ego comes into play only when I hope you like it. I'm working on that!
Song List Titles
If you don't see a download control, right-click on the audio controls and select Save Audio As…
Eastern Point Light

For Yasgur's Farm (Slight Return)

Karen With the Golden Hair

La Bella della Miniatura

Malibu

Prelude-Rain

Somewhere In The Stars (Electric Version)

Somewhere In The Stars
All compositions and performances © Brian Scott All rights reserved
Albums
×