Night Flight Band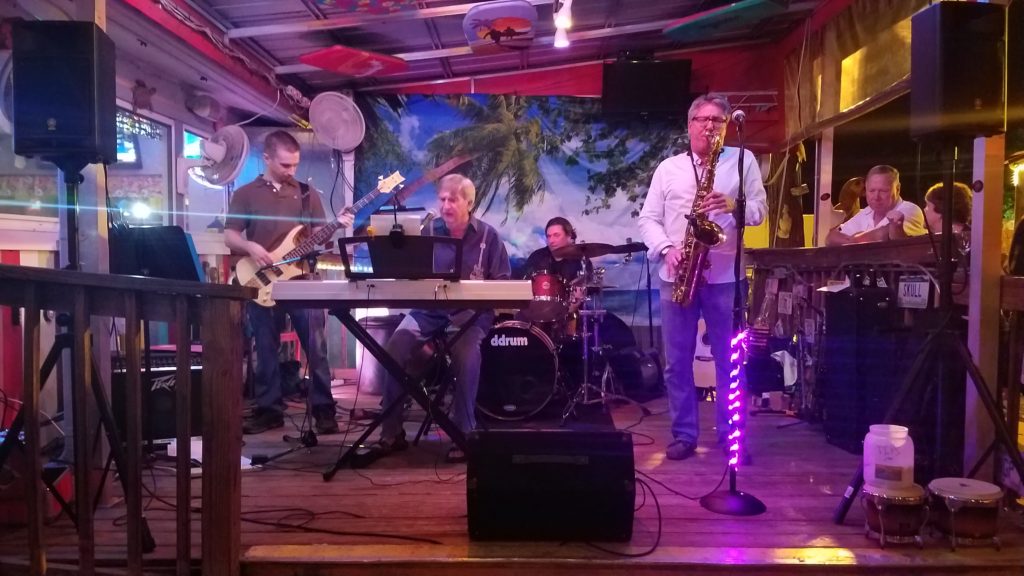 About the Band
Night Flight is an amalgam of rock, jazz, and pop featuring the saxophone of Bob Blair and keyboards/guitar of Brian Scott. Bassist Kevin Scott provides the rock solid bottom that holds it all together. Equally adept with vocals and instrumentals, funk and ballads, this versatile trio exudes professionalism and can handle everything from society and cocktail gigs to tikki bars with equal aplomb. (If you know what aplomb means then you are a society gig and that costs extra.)
To hear a sample of Night Flight tunes, click on the audio link below. To hear Night Flight's debut CD, !ARRIVAL!, scroll down and click on the mp3s for listening or download. When you want something other than the standard fare, Night Flight is your band. Smooth like Tennessee whiskey, hot like the noon day sun.
Demo
Night Flight Song List
Ain't No Sunshine
All Along the Watch Tower
Baker Street
Black Magic Woman
Blues a la Night Flight
Brown Eyed Girl
Casual Conversations
Colour My World
Coming Home Baby
Corcovado
Desifinado
Fallin' In Love
Georgia
Girl From Ipanema
Green Onions
Hello
I Feel Good
I Put A Spell On You
It's Too Late
Jimmy Buffet Medley
Just the Two of Us
Kansas City
Little Sister
Little Wing
Mary Jane's Last Dance
Mercy Mercy Me (The Ecology)
Misty
Moon Dance
Oldies (1950's) Medley
Old Time Rock n Roll
Oyo Como Va
Pink Cadillac
Roller Derby Queen
Satin Doll
Standing On Shaky Ground
Smooth Operator
Spooky
Stormy Monday
Summertime
Sunny
Tequila
Take 5
Turn the Page
Use Me
Valerie
Night Flight Debut CD
!ARRIVAL!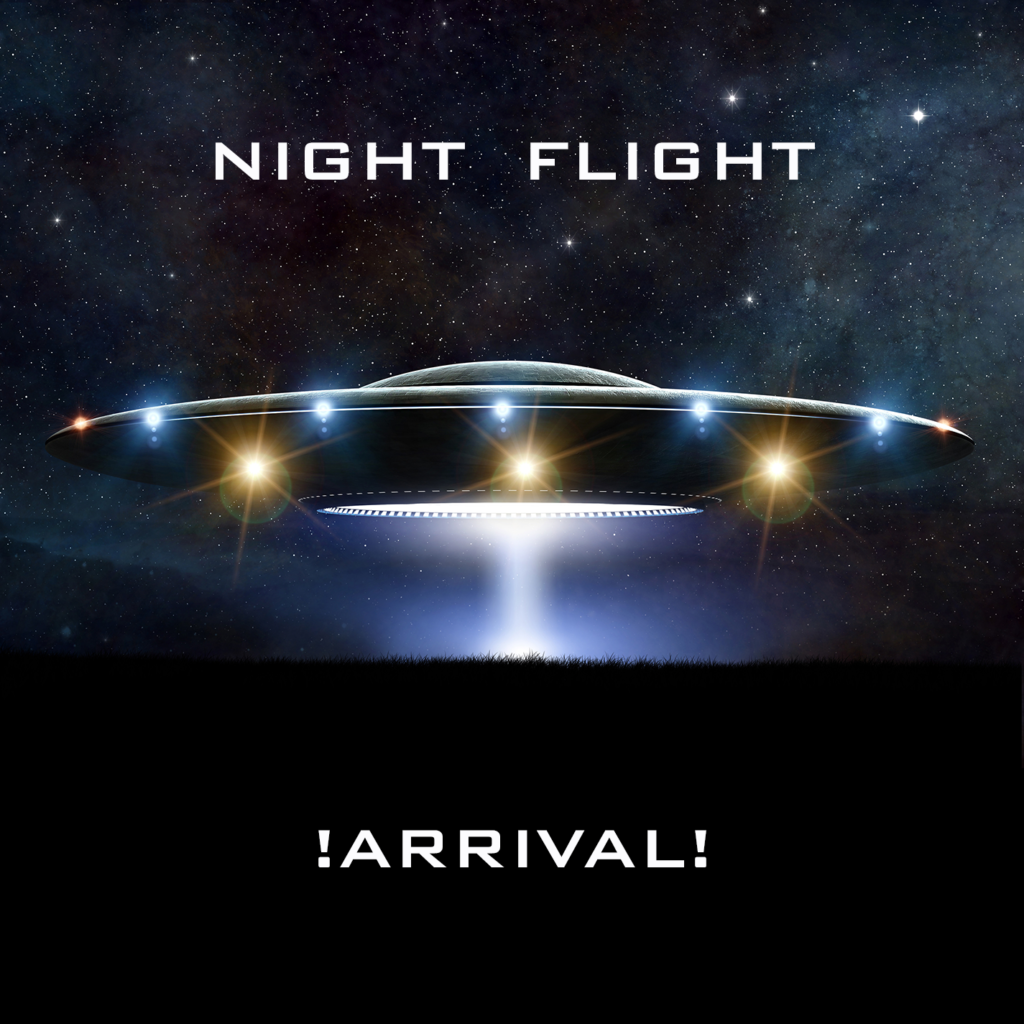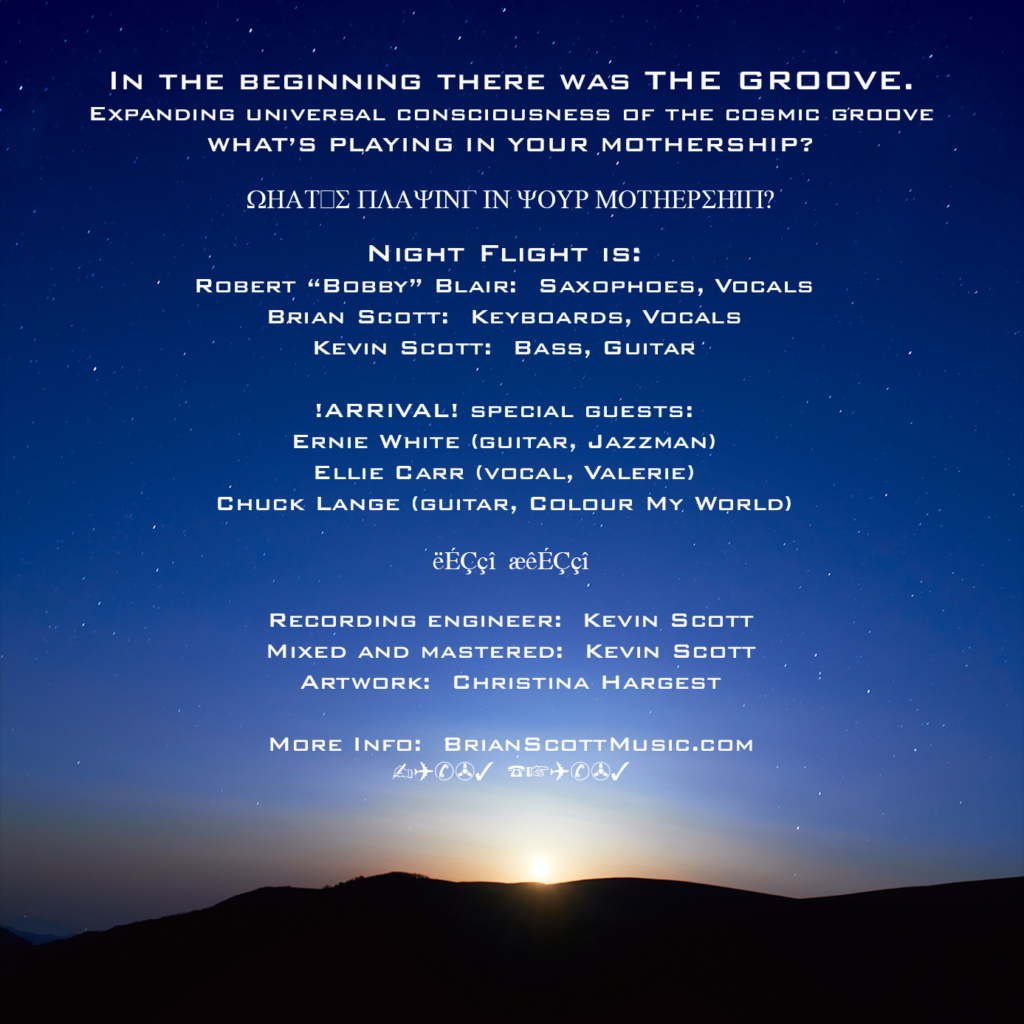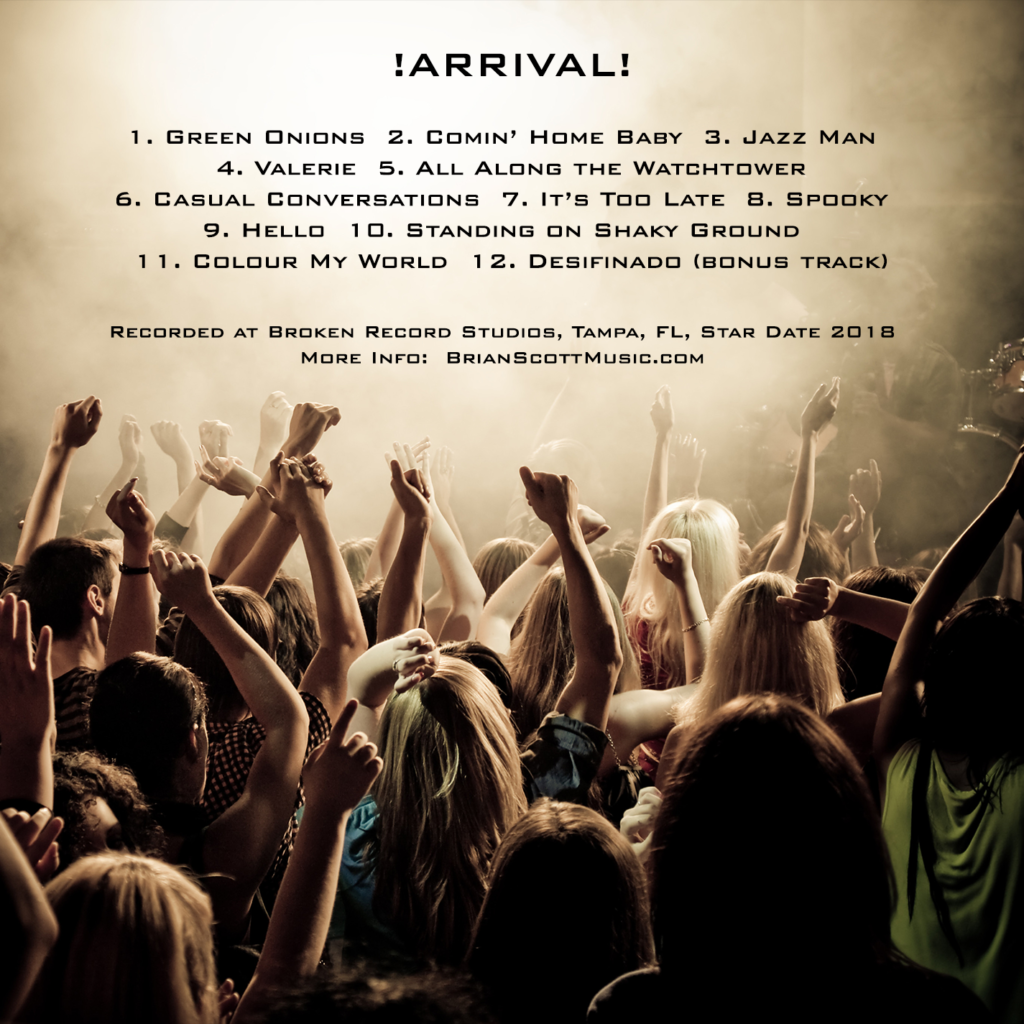 Click on an image to enlarge
About the Music
!ARRIVAL!
"The GROOVE was never in danger, the GROOVE was never in doubt. Once the GROOVE was in the bag, and now it's out."
Night Flight has arrived!
Debut album from Tampa metro area smooth jazz/pop/funk group features smokin' grooves and sensual ballads. Saxophonist/Vocals Bob Blair, Keyboardist/Vocals Brian Scott, and Bass/Guitarist Kevin Scott deliver the goods on this eclectic 12 song compilation with special guests Ernie White (guitar), Ellie Carr (vocal), and Chuck Lange (guitar). Get your groove on with Night Flight!
Expanding the universal consciousness of THE GROOVE, one galaxy at a time. Listen and download !ARRIVAL! free below.
Song List Titles
If you don't see a download control, right-click on the audio controls and select Save Audio As…
Green Onions

Coming Home Baby

Jazzman – Final Mix

Valerie

All Along the Watchtower

Casual Conversations

It's Too Late

Spooky

Hello

Standing On Shaky Ground

Colour My World

Desifinado (bonus track)
Albums
×